First Observatory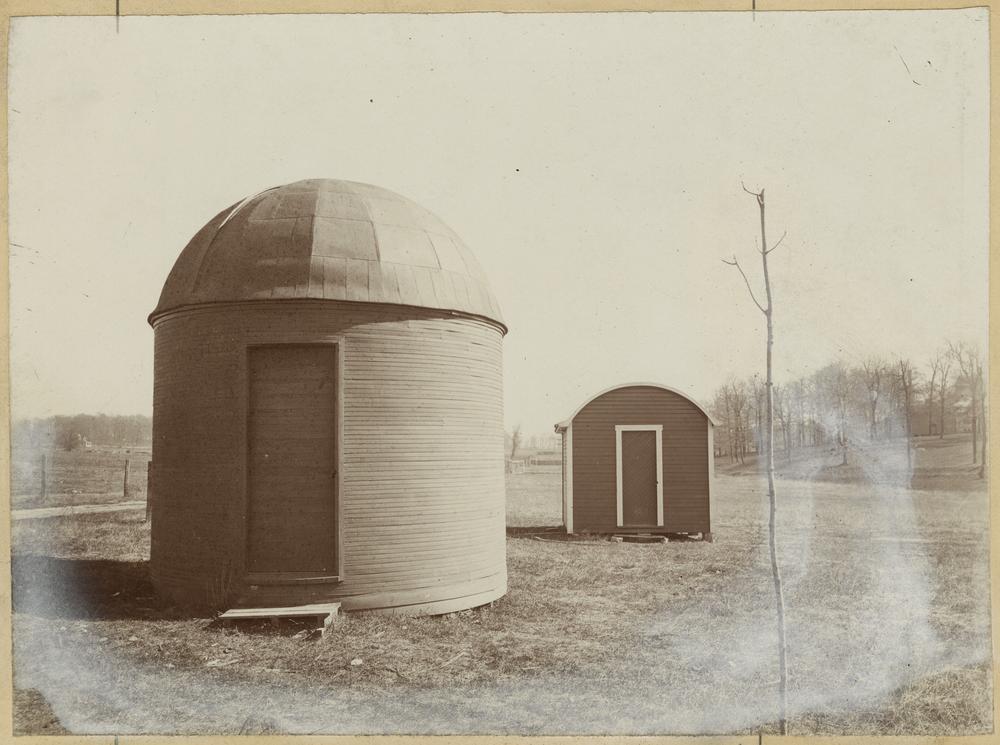 From IU Archives Photograph Collection page of the first observatory:
The view seen here is from the west looking east. The western side of Owen Hall can just barely be seen through the trees at right. The observatory and transit house seen here were located at the western end of Dunn Meadow. In 1910 or 1911 they were moved to where Woodburn Hall is located today (2014). See page 172 of the 1911 Arbutus yearbook for an image of the domed structure being moved.
Both buildings were apparently dismantled in 1928. Based on the primary source documents listed below it is difficult to say which of the two buildings were constructed first (by April 1895, with the second seemingly being completed by late February or early March of 1899). However, it does seem that the building at right may have been the first of the two buildings to be constructed. The difficulty arises when one attempts to reconcile dates and the terms "telescope house", "observatory", "small frame building" and even "transit house". Note: which ever building was completed first, both, based on the documents below, are referred to as a "small frame building".
It should also be noted that no mention can be found of these two buildings in the minutes of the Board of Trustees nor in the President's Reports for 1896-1899. The first mention of any kind of an observatory in the President's Report appears on page 12 of the November 1899 report, but this is the beginning of a discussion for what would become Kirkwood Observatory (entries for "Telescope" and "Observatory" in the minutes of the IU Board of Trustees beginning in November 1899 (page 55) all regard Kirkwood Observatory).
From page 19 of The Indiana University Catalogue, with announcements and calendar for the 1895-1896 school year (published April 1895), in full: "Observatory. A small frame building has been fitted up as an observatory for the use of students in Astronomy. It contains a Browning Equatorial Telescope of 4-1/2-inch objective." The Indiana University catalogues, with announcements and calendars for the school years of 1896-97, 1897-98, and 1898-99 have the same, or virtually the same statement. An October 14, 1898 bill signed "S. C. Curry" for "...building telescope house $75.00..." and docketed with: "Paid Oct. 15/98". An undated document docketed with "Paid 25 Feb. 1899" from "Jno Miller" [Professor John A. Miller] to "Prof. Swain", in full: "Will you kindly give Mr. Curry $75 in part payment for observatory. The building is practically finished."